I love vintage jewelry.  And I love Jane Austen.  While reading Mansfield Park for the 127th time, I decided I wanted an amber cross like William Price gave his sister Fanny. William Price was a midshipman in the British Navy, and with the small proceeds of his prize money from taking a French privateer, he bought Fanny an amber cross pendant. Lack of funds kept him from buying a gold chain for it, so Fanny wore it on a bit of ribbon until her true love (and cousin to boot!) Edmund Bertram bought her a chain so she could wear her cross in style to her first ball. My imagination fired, I decided to buy a Georgian era cross pendant. I looked and looked, but I could not find my cross.  There were lots of new amber crosses, or vintage bakelite amber, and TONS of fake amber, but no genuine carved-in-the-Georgian-era cross. It turns out that amber is a soft, easily damaged material and not many crosses made in that era are on the market.  I shifted my search.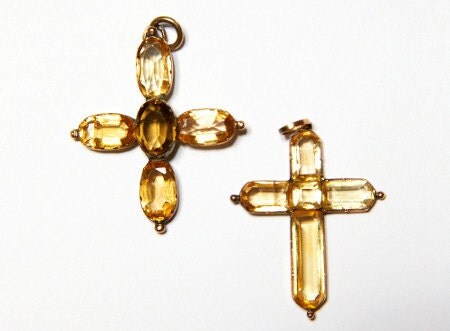 Crosses given to Jane and Cassanda Austen by brother Charles Austen
While reading a book ABOUT Jane, I came across a photo of the crosses her brother Charles Austen gave Jane and her elder sister Cassandra. Charles Austen was a 2nd Lieutenant on the HMS Endymion, and with prize money from taking a privateer (sound familiar?) purchased topaz crosses for both his sisters. I started searching for antique topaz crosses, but the ones I found were deservedly very expensive. A nice Georgian era topaz cross will set you back a thousand dollars, or pounds for you Brits. This was out of my price range, so the search continued.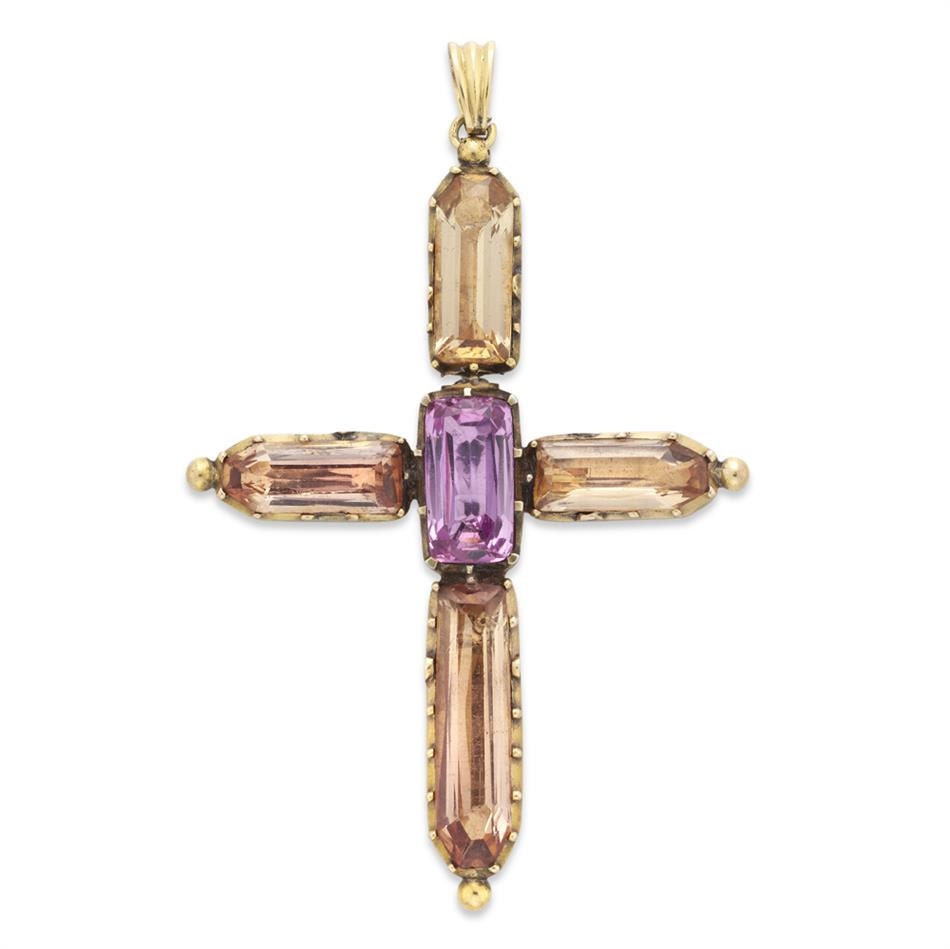 A Georgian Topax Cross Pendant available for sale at Bentley & Skinner 
Then one day I found it. It was of garnet instead of topaz, but otherwise similar to Cassandra's cross. And at $350, I could squeeze it into the budget. I knew this was the closest I would come to owning my very own piece of Fanny (pun intended) so I went for it. While my other fantasy of standing in the doorway of my country manor in my empire waist frock while my true love rides towards me has yet to happen, if it does I will be wearing the perfect pendant!   I wear my cross often, and also use it as part of my logo at my vintage jewelry retail site, VintageGemz. There are no Georgian era crosses, but plenty of vintage jewelry at affordable prices!